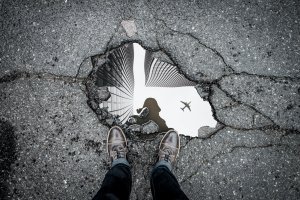 I met Linda, a beautiful, shy and demure looking lady, 70 years of age. She came to see me about the future of her son; if his career would be fine. 
Her son met with a car accident when she was 57 years old.  The son was in a coma for 8 days before regaining his consciousness.  Ever since, she has been going in and out of the hospital with her son and the years flew by. Given anyone, it would have been terribly traumatic, and emotionally worn out as one continues to hold onto faith and prayers.  I totally felt for her, as the son listened quietly by the side.
In the session, Linda had no idea what was about to change for her – a rebirth moment.  In her mind, it was all about her son and nothing else – wanting to get an affirmation that her son would have a bright future. I saw a new beginning on her chart, and I was rather curious at the start what that could be.  Hear me out! 
After decoding, I could see that symbolically speaking from her chart that likely this individual did not apply himself/herself to work and ignored responsibilities in her past memories (relates to ancestral lineage to past lives), but instead sat by, and let others do his/her share of work instead. This usually affects our material and also denotes a fear of death which must be overcome. 
Linda also has some important life learnings to experience still at this juncture of her life.  There were 3 interesting discoveries as she shared:
About her losing her entire self to helping her son recover.

Very shy, fear of expression, and inability to express her feelings directly at 70 still.

Having a lack of confidence, self-doubt, given up her hobbies, not socializing much, worries and overthinks a lot. 
Using numerology, it helped me understand many aspects of what she was experiencing and why so. The numbers on her chart especially having a 30 has the strongest vibration of all, affecting her still, a need to learn about self-expression, emotional balance and coming out of her shyness. She was also gravitating towards the negative aspects of her 'key numbers' in her life, such as overthinking, too much stuck in the head. At the same time, the son was expressing frustrations of feeling his 'wings are clipped' at home, as the mom did not trust him enough that he would be fine! 
" Unless someone truly has the power to say no,
 they never truly have the power to say yes." 
- Dan Millman
In our session, I empowered the mom to realize that it is time to take her life back, and let go the need to control and learn to trust. The need to start coming out of her shell, and feel positive again. It was needed of her to break out of the pattern, come out of the dark hole now. 
She needs to go out and start having a life, start to socialise and go do what she used to love, such as singing songs.  She needed to allow the 3 in her to shine bright again, let her self-expression flow. She said she was still feeling shy and I suggested her baby steps.
At the same time, she has also forgotten to trust and be guided. She has very strong intuition and sensitivity. She lost touch with her innate gift and senses, and went too logical and overthinking. I helped her understand and ease the worries, to trust that her son would be fine and just surrender.  
Her son felt a great relief as he listened. I created a safe conversation between both mother and son. I facilitated to help them see the different perspectives they had, different expectations and what caused the frustrations in between.
The session ended and tears were flowing down Linda's eyes. She held my hands and thanked me. She was beaming with joy and repeatedly saying it was time to feel good and be positive. 
A very moving and heartening experience for myself and the opportunity to be able to serve and help Linda to start living again. To find happiness at age 70, better now than never. I am glad she came. A new beginning indeed.
What 5 things can we learn from this case story:
It is never too late to find the happiness! Let your inner goddess, inner child out to play!

There is always option A& B, and there can be a better option C. So do not overthink and get caught worrying. Ask questions such as what are the possibilities? How can you support? What more is needed? 

Trust and be guided. Often we let our logical mind take over and we forget we humans have that human instinct – gut feel or intuition. 

Trust and allow space for other person to grow, to explore and not over protect.
Not to over give and over help. It is a fine line to know when to exercise self care and self love.
Understanding and associating yourself with your numerological identity can effectively help you to recognize your strengths and areas of growth, inner needs, your real identity, soul purpose as we well as your hidden potential and talents. Like a way of living, a guide that can help you build better relationships and live your true potential in your career. Visit my Services page to find out more.